Vintage car collectors, owners and enthusiasts are often compared to big kids tinkering with their toys. This being so, the Committee at
Brighton Toy and Model Museum
thought that the London to Brighton Veteran Car Run was the perfect cue to get their trainsets running again.
Brighton Toy and Model Museum will be holding another of their ever popular Train Running Days on November the 1st to entertain all vintage enthusiasts and the nostalgic who will be on the South Coast for the London to Brighton rally the following day. Running days at the museum are unfortunately infrequent because the time and effort put into making sure the trains are properly maintained means that they can't be run on a regular basis. This running day will be different from the running days that the museum are occasionally able to host thanks to a French inspired theme. The museum will be unpacking its rare French made models from the first half of the last century and will be running them alongside more familiar British makes.
For those dedicated Francophiles among us, the French theme continues after the museum's normal opening hours: In the evening the Museum will be laying on a French soirée with authentic French music and chanteuse entertaining guests. A buffet of French foods including cheeses and wines will also be available.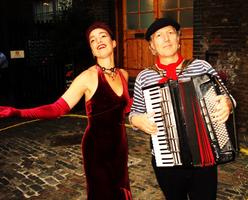 The Running Day on the first of November will be much like any other day at the museum except that many of the old, rare, and delicate trains which are normally only displayed behind glass in the central layout will be running. The glass will also be removed so visitors can get a really great unimpeded view of the trains as they go. There will also be staff and museum members on hand throughout the day to talk about the collections, their history as well as offering guidance and advice to any budding model rail enthusiasts.
Admission to the Running Day will be £10 per person, admission for those who wish to attend both the running day and the evening's entertainments (which includes access throughout the museum) is £16.00. Tickets for the evening's event will be £8.50 and will include a complimentary glass of wine.